5 ways Treasure Hunt York Makes the Perfect Date
Posted on February 1, 2022
Love is in the air, all you need is love, are you ready for love? (Yes I am- are ya?). What's an ideal date for a couple of young lovebirds like yourselves? A daring adventure round York of course! Hit the jump to make sure your date goes off without a hitch!
Is York the perfect city to fall in love? I mean, who needs Paris when there's cryptic clues to decipher and brilliant little places to go for a cozy drink, right on your doorstep. So let Captain Bess be your Cupid and arrange that date!
How does it work? ☠️
It's designed for adults, so you'll have a laugh together. Tickets admit two, you'll be testing out your essential pirate skills - following treasure maps, solving cryptic clues, and looking carefully around the city to find the answers. You'll be answering to Captain Bess, your bossy pirate leader who'll send messages to your phones to guide you along the way.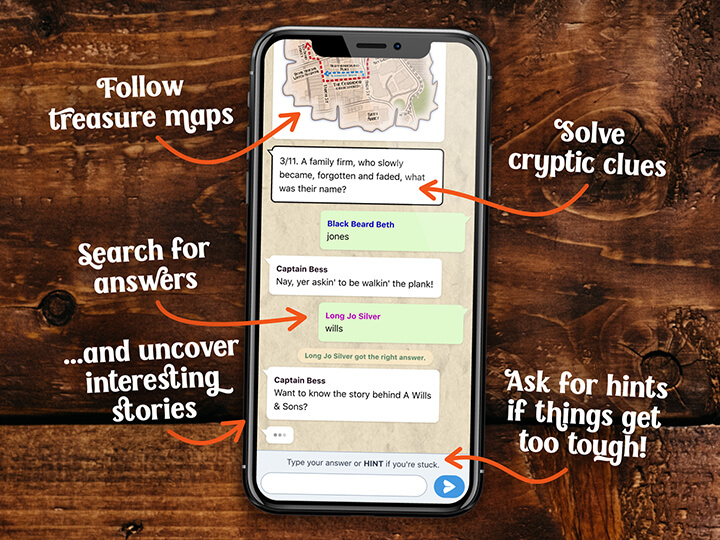 5 ways Treasure Hunt York makes the perfect date
You'll solve clues together As you know, working together, listening to each other, solving clues are a good way to see how well you work as a team, perhaps you'll find out if team work really does make the dream work?

Discover how one another thinks Treasure Hunt York is entirely self-paced so the stakes are pretty low, but you'll soon see how well your date can think outside the box. Will they give up at the first hurdle, or are they up for a challenge?

You'll stop at some great places for cozy drinks We've carefully crafted routes that take in some great cafes and pubs in York so you'll not be far from a cuppa or a pint if you want to take a break to talk about what you'd take with you if Captain Bess maroons you on a desert island!

Sure to give you inside jokes Memorable experiences are a great way to deepen a connection, and with Treasure Hunt York you'll go on a whirlwind tour, remember to have a laugh and not take our Bess too seriously! (She'll help you out if you get stuck!)

Takes the pressure off It can be tough getting to know someone new, or thinking of interesting things to do if you've been together for a while. We've got the plan, all you have to do is choose a day- you can even start now!