Look at York differently this Autumn 🍂
Posted on October 1, 2023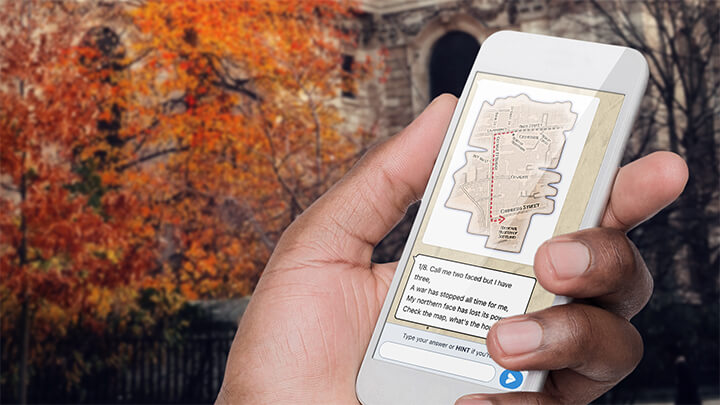 Autumn is a special time to enjoy York: the scenery looks spectacular, the trees are turning yellow and orange and the crisp blue days are perfect for exploring. Plus, without the summer tourists there's a little more space to enjoy the city!
Treasure Hunt York is the perfect way to enjoy York this autumn!
York's full of hidden gems, but they're easy to miss. Our carefully designed route around the city will show you the best bits! Spot things other people don't notice like the tiny figure peering down on Ogleforth.
A treasure hunt works more like a game than a walking tour. Have you got what it takes to solve the cryptic clues around York? You'll be put to the test by Captain Bess, a bossy pirate character who sends messages to your phones!
How does it work? ☠️
It's designed for adults, so you'll have a laugh together. Crews can be any size, although it might be more fun to split into smaller groups and see who can be the first to solve the final clue! (8+ are welcome too if you want to make a family day of it).
You'll be testing out your essential pirate skills - following treasure maps, solving cryptic clues, and looking carefully around the city to find the answers. You'll be answering to Captain Bess, your bossy pirate leader who'll send messages to your phones to guide you along the way.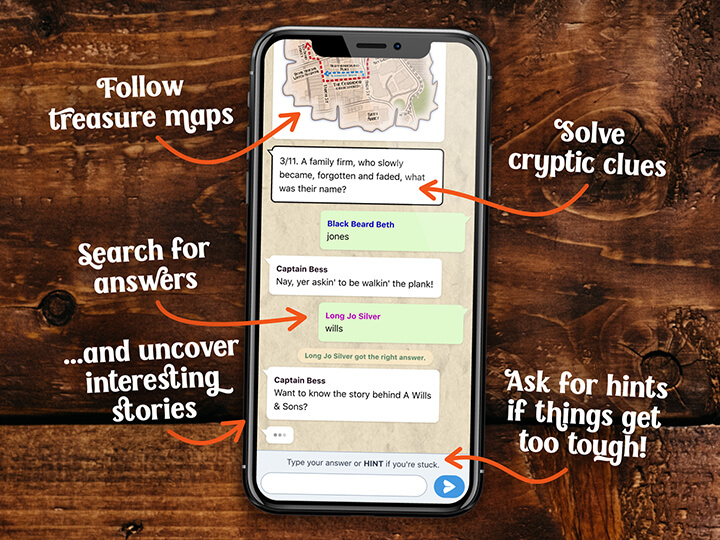 Excellent Team Building Activity
If you're looking for something different to do with your team, Treasure Hunt York could be just the thing. You'll work together to solve clues, discovering new things about familiar places. You'll be able to plan stops along the way to have a cuppa together and get to know each other outside of the work environment. Our crew have put together a treasure map for organisers so you'll be the office hero, discover the perfect team building plan here 📋.
Whether yours is an in-person or remote office, Treasure Hunt York is an excellent way to build your team. The route has been designed to avoid steps, but there may be cobbles and steep parts - get in touch if you've got any questions.